---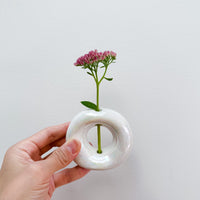 This XS donut vase was made on the potter's wheel. Then it is glazed with a white glazed and fired again. And then the mother-of-pearl luster overglaze is applied and fired for a third time.  
Approximate dimensions: 
3.5 inch wide
2.5 inches tall

IMPORTANT NOTE: This glaze / firing technique is not food safe.