---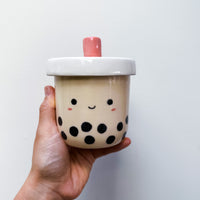 This is listing for a lidded jar handmade on the potter's wheel, with elements hand built (the handle on the lid). The inside and outside are glazed in a clear glossy glaze. This could be used as a jar or as a tumbler with a lid. The glaze used is food and dishwasher safe. 
Approximate dimensions: 
3.5 x 3.5 inches
NOTE: jars are more expensive because it involves a lot of measuring and throwing two pieces. They take a lot more time than a mug or tumbler.